PKI automation and management in the cloud
PKI automation and management in the cloud
Do you need to secure all employees' mail? Are you a software or IoT manufacturer? Do you need centralized PKI management for your company or corporation? You are at the right address with us. We will help you find the ideal solution for your needs.
In cooperation with DigiCert, the largest CA in the world, we bring you various PKI automation possibilities at all levels. From a certificate's issue to its deployment; from personal certificates to signing the code or your own CA.
Typical ways of using PKI:
Code and application signing automation
S/MIME automation - acquisition, release and deployment on end-points
Automatic application signing (Code Signing) using a cloud service
Production of IoT devices - their security, firmware signing
Signing a large number of documents, including time-stamping
You can easily get these results with us:
Central management of all certificates and keys, including S/MIME and Code Signing
Integration with Active Directory, Azure AD or LDAP for user identity
Achieving compliance with the strictest standards
Greater security of use thanks to remote access to the CA cloud
Complete PKI management in the cloud or on-premise
With the unique solutions developed by DigiCert, you can secure all your activities. From signing emails, documents to securing IoT devices. No company is too big and no demand is too small; this robust platform can manage millions of your certificates in the cloud or on-premise.
We will help you access and use modern platforms for PKI management and automation. Large corporations can use the unique DigiCert ONE platform to use PKI in the cloud. DigiCert integrates all its PKI modules into it - from certificate and key management to IoT security.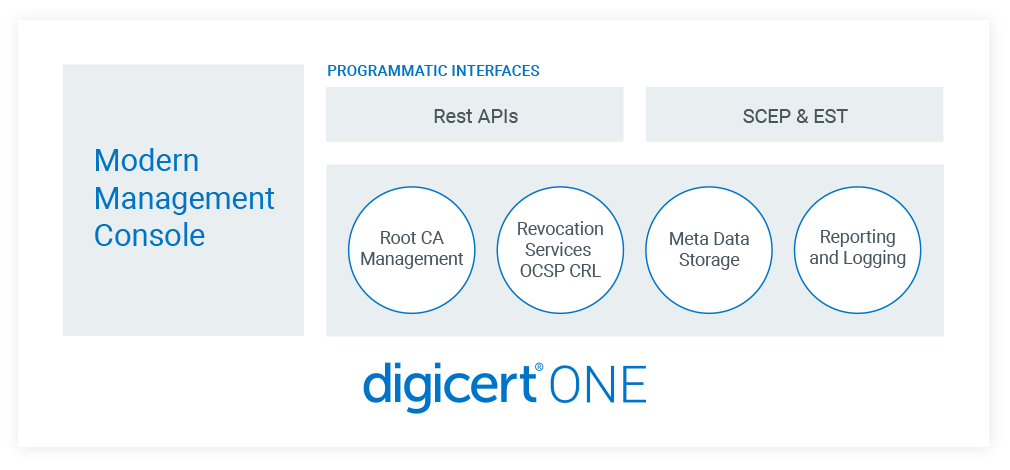 The future of application signing is close
Signing applications and software has never been easier! You no longer have to borrow a certificate or token with a Code Signing EV certificate within the whole company. The whole process can be automated and the private key together with your certificate is securely stored in the cloud of the DigiCert certification authority.
You can also use a modern Hash-based signature - the principles of post-quantum cryptography. DigiCert's PKI platform is robust enough and already prepared for the future today. Of course, there is support for all major platforms and operating systems.
Automation of obtaining and deploying S/MIME certificates
Are you a fan of electronic signatures and would like to use one in the whole company, but are discouraged by the enormous amount of work associated with installing and renewing certificates? That is a thing of the past. We are able to provide you with full automation of personal S/MIME certificate issue and their deployment on individual user endpoints. All with the help of trusted certificates from DigiCert and with our unrivaled support.
You can centralize S/MIME and TLS certificate management on-premise in your company, but you can also use a hosted high-availability solution with secure key storage on HSM. In addition to higher security, you will also not have the self-administration costs.
Personal certificates are not the only type of certificate you can use. Similarly, you can automate TLS certificate issuance and deployment or other types of X.509 certificates.
Would you like to know more about the possibilities of automating the acquisition and deployment of S/MIME and TLS certificates? Write to us and we will be happy to advise you on how to do it!
Tell us more about you
Contact us and we will help you find the ideal tailor-made solution. We are here for you and we will be happy to meet your requirements and get to know the way you use PKI. After a non-binding free consultation, we will certainly be able to help you with PKI automation, which brings not only higher efficiency and savings, but also higher security in certificate use.