DigiCert Client Premium Class 2 certificate for signing and encrypting email
DigiCert Client Premium Class 2 S/MIME Buy
The highest S/MIME certificate by DigiCert allows email encryption in addition to signing. Issuing is based on an email confirmation (preceded by an organization verification) that allows you to issue this S/MIME certificate in minutes.
OV
Organization and e-mail
Price

from £38

Validity

1-3 years

Secures

owner's e-mail

Compatible w/

desktop and cloud clients
Public key algorithm

RSA

Symmetric encryption

256 bits

Public key length

2.048 (3.072/4.096) bits

Root CA

DigiCert Assured ID Root CA
Money-back guarantee

30 days

Certificate reissue

free and unlimited

Multi-domain support (SAN)

N/A

Warranty (USD)

N/A
Recommended certificate use
We recommend using the DigiCert Client Premium S/MIME certificate for electronic communication to be trusted and signed. The certificate allows sender authentication, email signing, and you can also use it to sign documents.
DigiCert Client Premium Class 2 price list
S/MIME certificate DigiCert Client Premium Class21 certificate can be used not only for signing emails but also for signing documents. DigiCert Client Premium certificate also allows email encryption.
.
1-year Price
£42.00
Guaranteed (advanced) signature in all clients
 
Buy
2-year Price
£79.00
Guaranteed (advanced) signature in all clients
Lower price per year
Buy
3-year Price
£115.00
Guaranteed (advanced) signature in all clients
Lower price per year over 2-year
Buy
Prices are without VAT.
Displaying the certificate in the client
All offered S/MIME certificates are fully trusted and recipients of your messages or documents will have no problem with them.
The email client clearly shows the information about a valid signature and you can display the detail of the certificate.
DigiCert Client Premium certificate corresponds to Class 2 and contains not only the applicant's email and name, but company name as well. The authentication is thus equivalent to OV authentication for SSL/TLS certificates.
The electronic signature guarantees the sender's address, the document's immutability and integrity and also allows the message to be encrypted. Use a Class 2 or higher certificate to sign the email or documents with full sender authentication (name, email, company).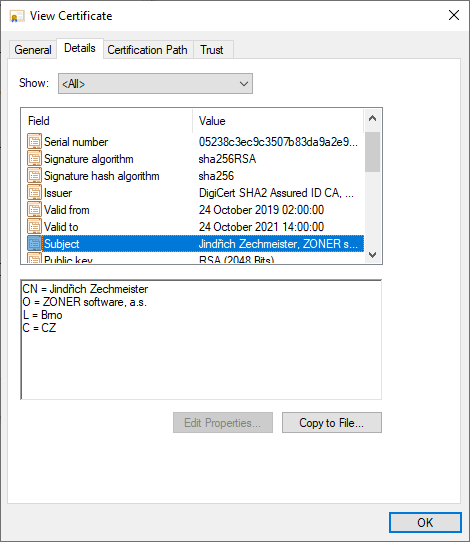 FAQ - Frequently Asked Questions
Do I need special software to sign?
No special or additional software or development environment is required to sign documents, as is the case with Code Signing certificates. You can sign the document directly in the software you create it in. For example, signing support is available in the widespread Adobe Acrobat, MS Office, LibreOffice and OpenOffice products.
For specific procedures for signing in these programs, see the Help article Signing documents with a
Signing documents with a Document Signing certificate
.
Will the signature in the document be valid even after the certificate expires?
In general, yes; but it depends on the specific software and its implementation. If the program knows the signature time (from a valid timestamp) and can check the revocation of the certificate, then the signature will be valid. However, this may not work entirely in all office programs.

If the validity of a signature in documents is critical and you require it for many years to come, then we recommend an electronic archiving service to manage the document life cycle.
What is the difference between Class 1, Class 2 and higher?
Class 1-2 levels determine the degree of certificate verification. The higher the level, the more information is included in the certificate. Only the owner's email is listed in the Class 1 certificate. Higher Class 2 includes the certificate owner's name, email address, and company name.
All types of S/MIME certificates can be found in this
comparison
.