Mail protection with Verified Mark certificates and BIMI
Protect your email recipients with VMC certificates
Verified Mark Certificates issued by the DigiCert certification authority are used to display the symbol of email message senders to better identify them. Thanks to this technology, your email recipient will see your company logo before opening the message itself. Thanks to VMC, we can increase the efficiency of our communication with customers and consistently protect them against phishing.
What are Verified Mark Certificates (VMC)?
Verified Mark Certificates (VMC) allow companies to display their logo next to the "sender" field in email clients - the recipient sees it before the message is opened. VMCs use technology known as Brand Indicators for Message Identification (BIMI).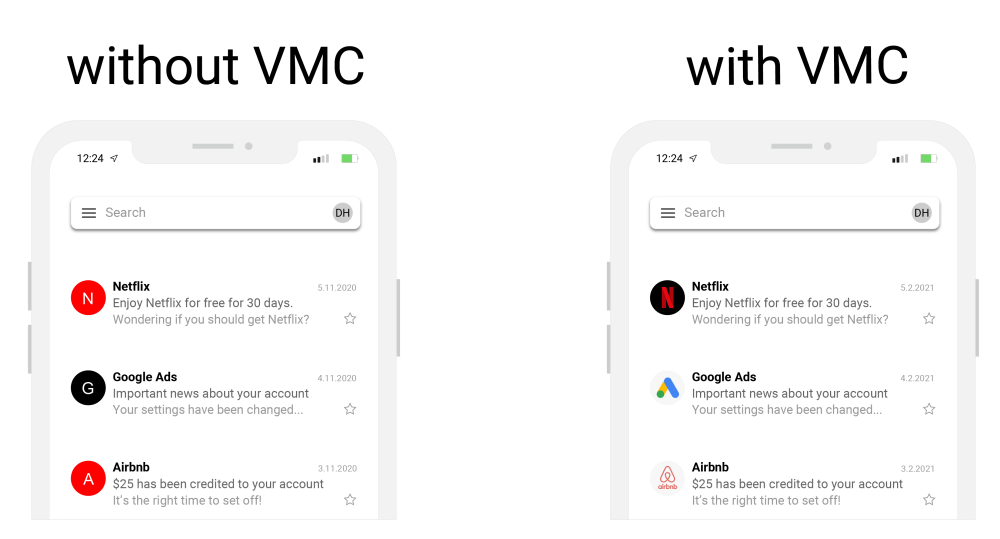 This technology will allow companies to take full advantage of their registered logos to communicate with users, which was not possible before. VMC is revolutionizing the use of email and phishing protection.
The benefits of identifying the sender using a VMC certificate
A VMC certificate brings you the following benefits:
It increases the credibility of messages sent to customers
The reader of the message clearly knows the unique and verified identity of the sender
You will be different from the competition - your emails will stand out
Verifiably more people will read your emails
Your email campaigns will have a higher open rate (reading statistics)
The technology effectively eliminates phishing
The Verified Mark certificate is a symbol of success. How can you get it?
Join the most successful companies in the world and use the Verified Mark Certificate. We will be happy to help you get it. However, we will need a valid trademark from you, which you need to secure or trace a valid registration. Without it, obtaining a VMC is not possible.
For complete information on how to obtain a VMC certificate and what is required for it check our article What do I need to do to obtain a VMC certificate?
You can obtain Verified Mark Certificates exclusively from DigiCert through us. We will help you with the complete process of obtaining a VMC certificate.